All About Stuart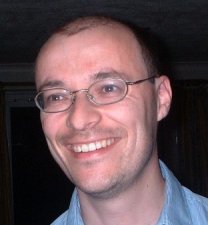 Hi ! I'm the guy on the right. If I look like my brother that's because we're Twins. If you haven't worked it our already, I'm an IT geek into badminton, music, coding, games, hacking, fast cars and occasionally skiing and sailing. Strictly on holiday only of course..
In police terminology I'm 1m70, 80Kg, hazel eyes, short/receeding hair, glasses. Definite axe-murderer material. [That's 5ft7 and 12st for all you imperialists out there.] I prefer 'cute' myself.. Just don't call me 'middle age spreading' or I'll have to kill you.
Here's what I'm like:
I don't smoke (unless I've already finished too much Jack Daniels),
I don't take recreational pharmaceuticals (unless everyone else is)
I used to play badminton. I want to start again…
I drink occasionally (i.e. when anyone buys me a pint). Usually right after badminton!
I enjoy adventure, experiencing the power of nature, the local culture, becoming one with the world; in particular with the local home-brew.
I play guitar; when I can be bothered to practice.
I ski and sail when on holiday. I should practice both to get better but I don't
I'm quite funny. No really ! This text was written too late at night..
Here's the low down. It get's better. Honest!
---
Play
Serious playing requires a little time away from the office, and a social life. I try to make time for that, but I've got this lot to contend with first:
Love Life Amazing! I am now married to a loverly Cornish girl called Gayle; I suspect she might be a Piskie so I will have to watch my step :)

Family Even more amazing! I have a baby son called James, born September 2011, and baby girl called Megan born Jan 2013. So proud of Gayle. Big hug!

Music I am a Practicing musician; well perhaps 'practice' is too strong a word - perhaps 'fools around' is more accurate! Most recent outing as the bass player in the works Xmas band I USED to I play guitar in an 'electric folk' kind of combo; think Pentangle but more Irish. You can find out more about pH5 I also try to write/record stuff and I have a little project studio in my back room. Digital of course :)

DIY I make stuff; furniture mostly, in a rather modern, modular kinda style. Think Tapley, if you know that brand, but with more handles..
I also try to keep my house sorted, and the car, and the PC network, … current projects are to renovate the garden into a zen-like low maintainance area, and re-build the digital with linux instead of Uncle Bill's nightmare O/S
---